Gavia on the Wishlist at ProCycling Magazine
Coming to magazine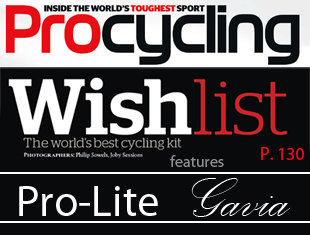 racks soon! Pro Cycling Magazine Issue #140, July 2010 will feature the Pro-Lite Gavia as a top shelf, top value item in their list of drool-worthy items to pick up this summer. You can find the article on P. 128 with the Gavia on P. 130 (view PDF).

Don't have that one? Drop by their website or jump directly to the online Zinio reader version to see what the fuss is about.

Yeah baby, that's one sexy, sexy wheel!