Keeping up our focus on the Photo Contest winners, we picked up a line on Ian Sim, a firefighter and racer in Scotland. Ian recently took a win on a 10 mile Time Trial and we thought it would be perfect timing to find out a bit more about him.
PL: What can you tell us about yourself?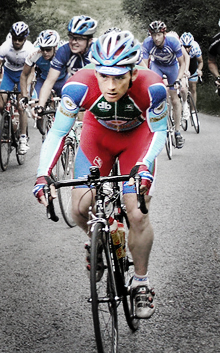 Ian: My name is Ian Sim and I am 31 years old. I have 2 young boys who are 1 and 3 years old and I am a full-time firefighter living in Scotland. I played football throughout my childhood and only took up triathlon and then laterally cycling after breaking my leg in 2000 so I have been racing less than 10 years.
PL: What got you interested in racing?
Ian: I have always been a competitive person, couldn't play football anymore so looked for a new challenge. As soon as I finished my first road race I was looking for the next one. I love the tactical side of it, knowing when is the best time to make your move and hammer it.
PL: What type of racing do you do?
Ian: I mainly race on the road and time trials these days. I used to do triathlons and have also completed the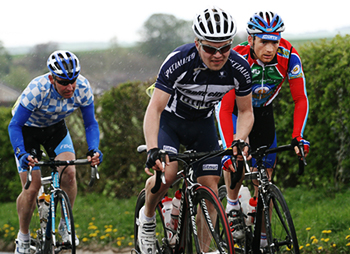 Marathon des Sables. These days with a young family it is easier time wise to concentrate on one discipline. I took part in my first road race in 2003 and was hooked instantly.
PL: Do you belong to any teams?
Ian: I ride for the Glasgow Couriers Cycling Club.
PL: What kind of riding do you do for fun?
Ian: Anything that family commitments will allow. Got a road bike, mountain bike and cross bike so whatever the weather I will be out.
PL: What equipment do you use?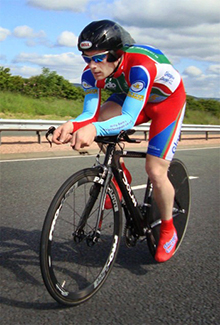 Ian: I am lucky that my employer operates a cycle to work scheme meaning we can get bikes cheaper and pay for them through our wages so I have about 9 bikes last time I looked. Trick is never to bring out more than one in front of the wife. ;-) However my racing steed is a: Galileo Carbon Frame, Gavia Full Carbon Tubs, Grande Monocoque Fork, San Martino Aero Wing Handlebars, Elbrus Stem, Pellegrino seat post, San Carlo saddle, Castel Franco Bottle Cages, Carbon Steerer Wedge Headset
PL: What makes this product well suited to your use and how does it perform for you?
Ian: I find the Pro-Lite setup I have is very responsive and great value for money. I can't fault it one bit and always find it great in a sprint. The Gavia tubs are class, I use them for road races, criteriums and on the front in a time trial. The sound they make in the bunch is great and are a serious weapon when you are up the road in a break.
PL: What do you think of the Pro-Lite stuff?
Ian: Great value!
PL: Where can we read more about you and your team?
Ian: Our clubs website is at www.glasgowcouriers.com, I also help my friend in his shop who also sponsors our club. His address is www.bicyclerepair.co.uk