Spy Pics - Spoke Braces in testing - UPDATED!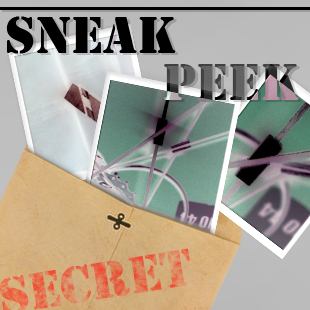 We have just received a small batch of a rather useful and ingenious devices that could make life a LOT easier for racers.

Many serious riders understand the importance of having a strong, rigid wheel, but the tendency towards lighter and lighter wheels keeps working against this. To counteract this, many people tie & solder their wheels to gain just a little bit more out of their wheels. This adds only the tiniest bit of weight to a wheel, but by adding a secondary zone of rigidity, helps give the wheel strength even beyond what is theoretically possible for the spoke length/hub radius.

This tiny little brace takes the place of that tedious process by working with the simple characteristics of the crossing of a spoke. Bracing once spoke against the other, it creates a noticeable increase in rigidity along the whole length of the spoke which also translates to the wheel at the rim. Initial testing is finding an increase in torsional rigidity (resistance to pedal torque which translates directly into snappy acceleration under heavy pedaling) and a small increase in lateral rigidity (which prevents flex-based loss of energy in heavy pedaling and out-of-the saddle sprinting).

The payoff of course is that this addition is extremely cheap, adds very little weight and can be added and removed as desired by anyone of any skill level - and without need for any tools.

Currently, we are testing samples cut from aluminum on CNC, but later on, we expect to have these manufactured from super-hard POM polymer from DuPont for even less weight added. A complete set for the rear wheel weighed in at just under 2 grams in alloy -for the whole wheel!

UPDATE: The Polymer versions have arrived and are even lighter, but with the same benefits. (Revision 2)

UPDATE: The first phase of testing has been passed and these have shown noticeable improvement in Power Transfer, especially in sprints and climbing! It adds even more snappiness and immediacy to the pedal responsiveness.

UPDATE: Prototype testing has passed and production models have arrived with a different, aerodynamic shape. Pics coming soon. (Revision 4)

We hope to make these available for the Gavia and the Bracciano.

It is always exciting to see how a little innovation can make a big difference.
UPDATED PICS: Feb 12, 2011