In the wake of our second Photo Contest, we thought it would be great to meet our first place winner, Simon Johnson. Coming from a mechanical background, he has a keen appreciation for well built gear and a smooth ride.

We especially appreciated his obvious diligence to attain technical mastery of his photographic gear to pull off the stunning shot that took the win. We wanted to learn a bit more about the story behind the man behind the pic, so here it is:

PL: What can you tell us about your background?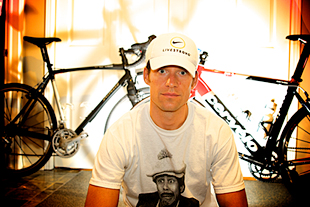 Simon: [I'm] from Ontario, Canada. I'm 34 yrs old, married, and a father of 2. I've always been a fitness buff, but only recently have I started cycling seriously.

PL: How did you get started with cycling?

Simon: When I was in high school, I was an avid mountain biker, riding a $400 chromalloy Concorde that I bought with grass cutting money. But university and early career choices dominated my time, and the bike collected dust, and rust, in my parents shed back home.

PL: When did you start getting back into it?

Simon: About 5 yrs ago, I started running and began entering 5K and 10K races with pretty good results. I also picked up another mountain bike and started riding casually, mostly commuting and riding with my kids in a bike stroller.

My passion for road riding is still in its infancy. This past spring, I bought a cyclocross bike, hoping to take some of my casual trail riding onto the road as well. Since then, its been all road, and lots of it. After over 2500kms ridden on my Tricross this summer, I bought my pride and joy – a 2010 Cervelo S1.

PL: Wow, that's a nice ride for a guy someone just getting into it. What can you tell us about the bikes in your stable?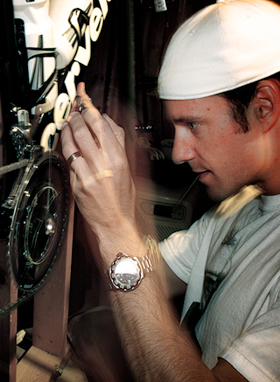 Simon: My current kit:
- Specialized Tricross cyclocross bike with Shimano R500 wheelset and Pro-Lite Caressa aero seatpost.
- Cervelo S1 Ultegra with Soul 3.0SL wheelset

PL: Where do you see yourself heading with your riding?

Simon: I haven't started racing yet, as I am still building my confidence, speed and technique. However, I'm keeping my eyes peeled on local cycling club websites for entry level CX and road races – both of which I'm very excited about.

PL: What kind of riding do you do for fun?

Simon: I enjoy both group and solo rides. There's nothing better than going out on a crisp Canadian morning and riding the quiet back roads in Eastern Ontario. Aside from riding, I love tinkering and tuning both bikes. As a car guy, I was always in the garage with my tool chest and a popped hood. Now, I'm in the basement always listening for clicks and rattles, making sure everything is perfect.

PL: What is exciting about Pro-Lite for you?

Simon: Pro-Lite is a very unique company, in that they offer very attractive, functional products at a great price. As common and insignificant as a seat post is, several of my cycling friends have commented on it. To win their photo contest and have a chance to build a Pro-Lite frame from scratch is huge for me.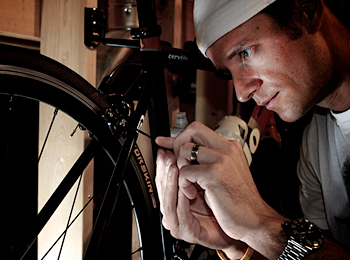 Not only will I have another bike to ride, but the process of building it from the bottom up will be invaluable to me. Photography has always been a casual hobby of mine. This is the first time any of my photos have paid off!!

PL: Those are some pretty impressive pics. I know that you mentioned that you are not a professional photographer, but you seem to have a very good handle on the use of external flashes. Can you give an insider's look on your photography for those who might not be so skilled?

Simon: No problem. My photography hobby stemmed from my love for Formula 1. I was at the Montreal Grand Prix one year with a point and shoot, and I couldn't get any good pictures because the cars were moving so fast. It was then that I decided I wanted a DSLR, and it spiraled out of control, in a good way, from there.

I'm not a typical Nikon or Canon guy. I actually shoot Sony. My current kit includes:
- Sony A700 DSLR (I also have an A350 as a backup)
- Numerous lenses, including the Sony 70-200 f2.8, and Carl Zeiss 24-70 f2.8
- HVL42am wireless flash

My passion is shooting motorsports. But I also love photographing my kids, as well as setting up intricate studio shots (the studio being my basement) using my strobes. Some of my work can be found here.

I will for sure keep a photo journal during my Pro-Lite bike build.

PL: We look forward to seeing that!