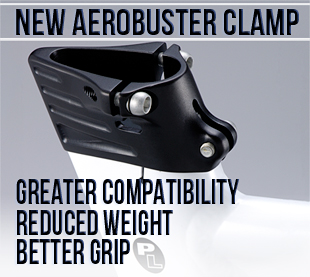 Taking a closer look at the clamp for the Aerobuster models, our design team decided that a bit of fine tuning was in order.

After four new revisions and hours of back and forth working in 3D CAD programs, we managed to shave a few grams off of the clamp, while at the same time improving the function. The aerodynamic profile is the same, but the secondary lower clamp provides an added level of security, especially when considering that a Triathlon bike actually does spend a fair bit of time hanging from its seat. The last thing you want to be worrying about is your bike slipping off the rack while you are in the middle of the swim part of the race.

Additional improvements work towards improving compatibility through our unique Aerobuster system, which allows the use of a single carbon fiber seatpost across 4 different frame models. This increases our quantities and lowers the price - savings we pass on to end consumers.