We get a lot of emails from happy riders and every once in a while, we come across something that genuinely warms the heart. This is one to send your friends and family. You have probably come across a viral video or two about Team Hoyt that made the rounds a short time ago, but he's not the only one. We proudly present Ben Laws, triathlete, medic and father extraordinaire:

PL: Could you introduce yourself please?

Ben: I am a member of the Bridgetown Cona Testa Triathlon Team (BCTTT) and my Son and I are part of Team Laws ( www.teamlaws.co.uk). I work for the London Ambulance Service.
PL: What type of racing do you do?
Ben: I race triathlons – mainly sprints but I am venturing into Olympic distances. My son Ewan and I are racing at the Cowman 70.3 on 4th July this year ( 1.9km swim, 90k bike and 20km run) Ewan has Cerebral Palsy and I tow, pull and push him for the entire distance of each race. We are raising money for 2 charities that help kids with multiple disabilities. www.meru.org.uk and www.scampps.org.uk
My family has had direct help from them both and the work they do is of huge importance. I am very passionate about raising their profile and they are in desperate need of fundraising.

PL: How long have you been racing?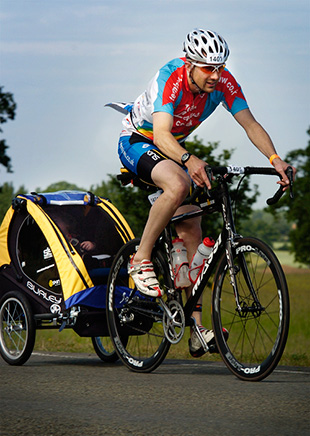 Ben: I raced my 1st season of Tri's 2 years ago, I had last year off due to my son being born prematurely and he was in and out of hospital so I am in my second season. I am a novice in every respect.
PL: What got you interested in racing?
Ben: I was looking at a video of team Hoyt – the father and son team who race in the USA and I wondered if it was possible for me to do the same with my son – a chap called Darren Roberts contacted me and agreed to help me and the rest is history. This season I am racing with my son for Team Laws – we have already run a 10km road race, competed in the East Grinstead Triathlon, we have an Olympic distance Triathlon in Windsor in 2 weeks and then the Cowman 70.3 in July. We plan to prop up the results sheets in many races all season.
PL: What kind of riding do you do for fun?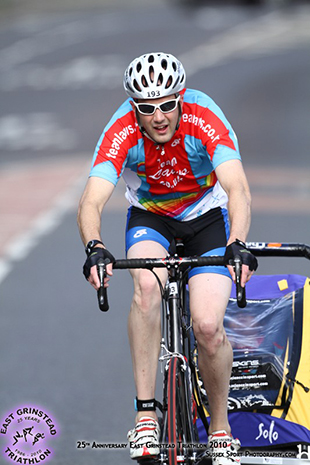 Ben: When time allows I tend to disappear into the hills of Surrey with friends or take my son out – pulling him about in his specially adapted trailer – it's hard work! I cycle to work as often as I can and currently do about 60- 100 miles a week – I would love to do more but sadly work gets in the way.
PL: What equipment do you use?
Ben: I have a Massi Carbon DHT Pro and I run Pro-Lite 50mm Carbon tubs.
PL: What makes this product well suited to your use and how does it perform for you?
Ben: Well apart from looking the part they haven't put a foot wrong. Very aero and very fast.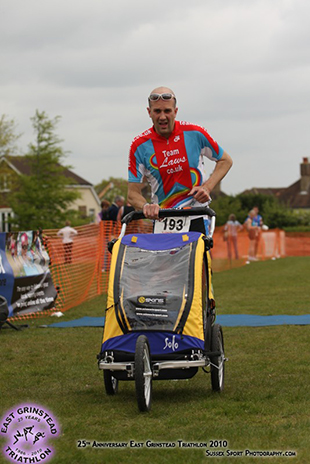 I am looking to get the new Rome Carbon Wheelset and a 90mm rear disc and have team laws on it – if they perform anything like the 50mm tubs – I'm going to be much faster! In terms of bang for your buck they are honestly right up there – no others come close. I am tempted to get a Pro Lite TT bike – I love the Modena carbon TT frame… just look at it!! Team Laws and Pro-Lite – a perfect combination.
PL: Your team is definitely one of the most special teams we have had a chance to interact with so far. Where can we read more about you and your team?
Ben: Please take a look at www.teamlaws.co.uk to keep up to speed with the races and we would be grateful for any sponsorship we receive. Team Laws is planning to do a Ironman race next year ( 3.8km swim, 180km bike and a 42.2 km run) – we are also going to be entering many road races and TT's so look out for us at races.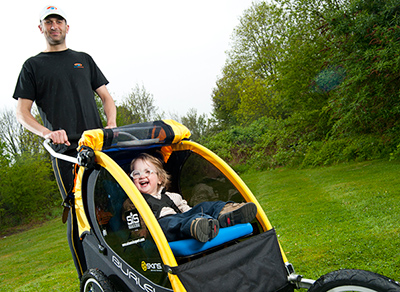 Bridgetown Cycles www.borntobike.co.uk/home have been a huge help and I must say a massive thanks to Mike who has helped with the bike and the trailer that we have since had adapted for Ewan's specific needs.
I have also had bespoke Team Laws kit made by champion systems and I am selling it to again raise money for MERU and SCAMPPS. Feel free to e mail for details.
If you wish to donate then please click on the link www.teamlaws.co.uk/Charities.html
We are also on Facebook so drop in and keep up to speed with what's going on. Just search for Team Laws.