Important information for all commercial customers - Distributors, Dealers, Retailers,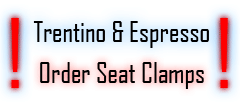 Wholesalers etc...
To allow the most flexibility with quantity, pricing and MOQ's, we have decided to sell our Alloy Aerobuster compatible frames with NO Seat Clamps.
That's right, the Trentino and Espresso are now available in just one frame type that is totally compatible with the Aerobuster system. For those who would prefer to stick with the 27.2mm, there is a low cost Round Post Converter available that is easy to use and completely interchangeable.
With this system, resellers can stock both the 27.2mm adaptor for customers on a budget AND the top quality Aerobuster Upgrade Kit that will turn their frame into a serious track weapon. The 27.2mm adaptor is compatible with the Trentino and the Espresso. The Aerobuster Upgrade Kit is compatible with four frames: the Trentino, the Espresso, the Modena and the Menaggio. That's serious versatility for any vendor.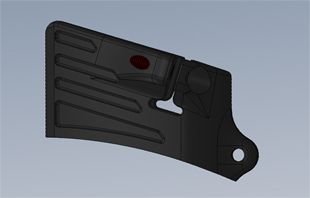 Retailers are recommended to purchase stock of the basic 27.2mm adaptor for the Trentino and Espressso as well as our Aerobuster System Upgrade Kit for upselling opportunities.
Distributors are encouraged to maintain stock accordingly for the Adaptor and the Upgrade Kit.
The 27.2mm adaptor will be packaged in simple, low-cost bags
The Aerobuster System Upgrade Kit will be packaged in quality retail packaging and is perfect for upselling with ALL AB compatible frames with the same packaging. The packaging should be finalized by late April.

Order codes:
Aerobuster Upgrade Kit:
PL-SK-MC-ABUK

Aerobuster Seat Post:
PL-SC-MC-AB

Aerobuster Seat Clamp:
PL-SC-AB

Round Post Converter:
PL-SC-RPC
The Modena and Menaggio frames will still come with their unique dedicated seat clamp for traditional use with "cut-to-measure" use.

NOTE: Our Seat Clamp has been undergoing some changes to allow for maximum compatibility, maximum strength and minimum weight. The design allows for sufficient surface contact to prevent slippage while maintaining aerodynamic shape without requiring any special cutting of the seat tube which could weaken the frame.